The Choice for Union IT Services
Your focus is your membership. Don't let security or system uptime challenges keep you from meeting their needs. As union members, we understand the importance of ensuring your system integrity and we've made that our specialization.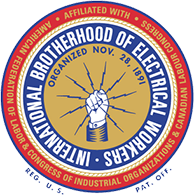 WE ARE UNION MEMBERS.
As proud, long time members of the International Brotherhood of Electrical Workers, we share in the commitment to professionalism and integrity. For this reason, we've built a specialization in servicing unions and union-based organizations. With over 14 years experience, we understand what union organizations need to be successful and that's what we deliver.
Union Services

Server Installation & Repair
Whether it's Microsoft, Novell, or Linux, our engineers have extensive experience in server implementation, migration, support, and repair.


Intrusion Detection & Response
The privacy of your data and systems is essential to keeping your union healthy, organized, and trustworthy.


App/Database Server Set-Up & Install
A robust database configuration is the foundation of secure and trouble free applications, critical to running your operation. We have the expertise to ensure it's set up right.

Network & Internet Enabling
A key to business efficiency is a well designed network, integrating systems. Let us show you the benefits of a secure, efficient network.

Workstation Installation & Repair
Maxwill Solutions can configure all of your workstations to your specific needs. Whether PCs, laptops, or mobile devices, Maxwill configured devices are reliable and worry free.

Remote Support
Our team is on standby to handle any IT issues and answer any questions your staff may have. We can support your staff remotely to expedite service and minimize potential down time